Photo Credit: Kathy Hutchins/ Shutterstock
Gregg Sulkin has an instantly recognizable face—and not just because it resembles that of another handsome British actor whose name just might be Robert Pattinson. Fans know him from MTV's "Faking It," opposite Selena Gomez in the Disney Channel's Emmy-winning series "Wizards of Waverly Place" and the likes of "Pretty Little Liars," "Young & Hungry" and "Life in Pieces." Currently, he can be seen on Hulu's "Runaways" from Josh Schwartz and Stephanie Savage, the creators of"The O.C." and "Gossip Girl." We chatted with the 26-year-old star (who moved from his native London to Los Angeles at age 17 to pursue acting) about "Runaways," working on his best friend David Henrie's upcoming directorial debut, "This is the Year," the autobiography he has in the works and—yes—what he really thinks of those RPatz comparisons.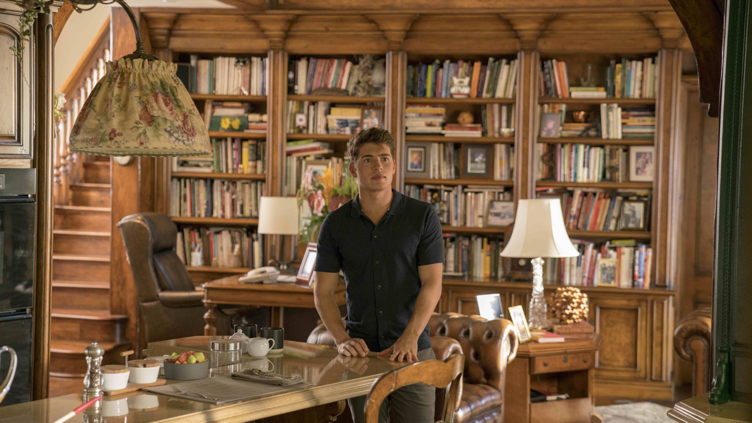 Photo Credit: Michael Desmond / Hulu
What surprises can we expect from the second season of "Runaways?"
Well, this season kicks off with us "Runaways" literally running away. The issue is that six kids from Brentwood aren't exactly equipped or prepared for living on the streets! We are not just on the run from our parents, but also the police which causes the stakes throughout the season to increasingly heighten. We have an action heavy season and some wonderful character arcs, including and especially for my character, Chase. We also introduce a couple of new characters that fans of the show, and perhaps the comic, may enjoy.
Is Chase going to live up to his genius potential in season 2? How, if so?
You will definitely see Chase use his brain and intellect in season two. Throughout the season, viewers will see him go from a boy to a young man, and of course, I cannot give too much away, but you may also see a little adjustment or two to his Fistigons, which maybe will help the other "Runaways" out…or, maybe they won't.
Photo Credit: Michael Desmond / Hulu
You just wrapped a film with your "Wizards of Waverly Place" co-star David Henrie. What was it like having him direct you?
David and I have been best friends since I arrived in the US. David is slightly older than me, and so I have always viewed him as my older American brother in a way. We really are that close. Years ago, we loved working together and we both wanted to make that happen again. I am happy that we were able to make that happen.
David was a wonderful director and is a natural born leader. Cast members respect him, as do crew members, and that is mainly due to the fact he shows every person respect and is a man filled with grace and humility. He is a gentleman and has always inspired me to become a better person, not just an actor.
The movie was a blast. Our characters do not interact that much in the movie, however, my character, Kale, was hilarious on the page, and I had a lot of fun bringing him to life. Kale is a character who is so egotistical and narcissistic that if he were chocolate, he would eat himself!
What was the dynamic like on set given that you've known each other for so long?
Extremely liberating and magical in a way, pun not intended! I know that may sound cheesy but I believe in David's talents so much that he had 100% of my trust, and so everything was enjoyable and effortless. Thankfully, he felt the same about me. Or so that's what he told me!
Photo Credit: Featureflash Photo Agency/Shutterstock
Can you share your favorite memory from set?
I went to his trailer for lunch and we went from being a director and actor to being two best pals again. I had a deja vu from when we used to chill in each other's dressing rooms and hang out when we shot "Wizards." Nothing has changed between us, aside from the fact that he has a baby on the way and now I don't ask him to drive me all over Los Angeles because I now have a car.
You're writing your autobiography. What's something that will be included that you can share?
I am in the process of writing a book. I do not want to confirm it is 100% an autobiography. However, I will say, I have experienced a lot, both professionally and personally, since moving to the United States. There are stories I want to share and advice that potentially could help others. My main purpose of my book will be to inspire and encourage others. As the old saying goes, "Rome was not build in a day," but I am definitely in the process of writing it, that is for sure.
I may have to write two books, one version I'll share with my mum, and the other I'll share with the public! I got mistaken for him today, and at least three other times this week. Apparently it is the hair. I always take it as a compliment as I respect Robert Pattinson's work. I think he has been very strategic with his career choices. It seems longevity is imperative to him, and this industry is a marathon, not a sprint.
What are three things you can't live without?
1) Clean drinking water, which sadly many people around the world do not have access to.
2) My family, friends and loved ones. I could not have had a more wonderful support system. As cliché as it sounds, my loved ones have been by my side through wonderful moments, and not so wonderful moments, and I am forever grateful to them for that.
3) Faith.
What projects do you have in the pipeline outside of "The Runaways" and "This is the Year?"
I also have a movie, titled "Oh Boy!" coming out in China in 2019. I also plan on directing, writing and producing in the near future. I am not very good at sitting still.
Subscribe to discover the best kept secrets in your city