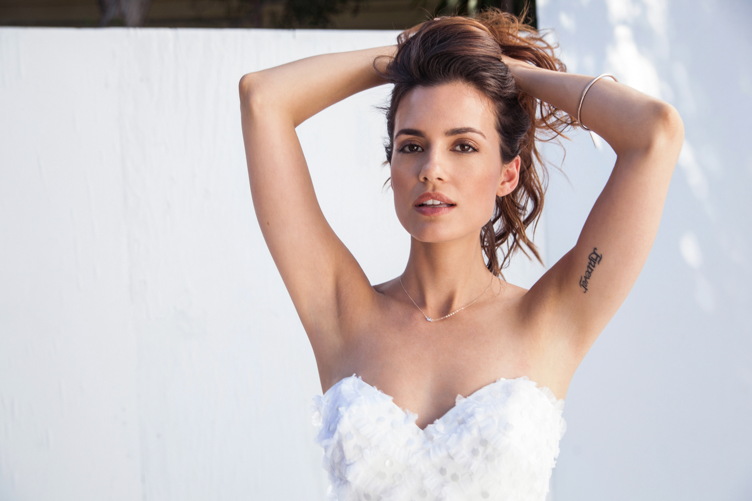 Photo Credit: Collin Stark
Let the record show that Torrey DeVitto—she's just really  good at playing one on TV. The 34-year-old New York native, whom you might recognize from series such as "Pretty Little Liars," "One Tree Hill" and "The Vampire Diaries," has been playing Dr. Natalie Manning on Dick Wolf's "Chicago Med" for four seasons, and run the gamut of emotions as well. As Dr. Natalie, DeVitto hasn't had it easy—her dramatic, failed wedding was a major development this season, as will be a—spoiler alert—helicopter crash later this month. We spoke to DeVitto about how checking in to "Chicago Med"'s Gaffney Chicago Medical Center has enriched her life (if not her character's life), her favorite spots in Chicago  and how she brings a little bit of herself to her character every single day.
Photo Credit: Collin Stark
How has Natalie evolved from the beginning of the series until now?
Natalie has grown so much since the beginning of the series. In the beginning of the series she was a grieving pregnant widow who was trying to find her footing and just figure out how to keep pushing forward, then she transitioned into being a mom and learning how to make work life and single mom life work together. Then we saw her start to put herself out there in the dating world and watched how she made being a single mom and a working mom work while trying to date. And now she's just so much stronger and self-assured than ever before. She is really clear on what she wants and so much more confident in herself as a woman, as a mom and as a doctor. I feel like she's such a relatable character. I have learned so much from her these past four seasons.
What do you think of your character arc in season 4?
My stories in season 4 are my favorite storylines yet. I feel like Natalie really stands for her patients more fiercely this season. She doesn't back down for fear of losing her job and she really tries to stand for people who need backing. She has a lot of strong opinions this season. I am really proud of our writers in that way too. They really write such topical subjects that some people would maybe feel afraid of writing about for fear of how the audience would react. I'm just so honored that I have the opportunity to bring these powerful moments to life.
Will Natalie survive the helicopter crash at the end of this month? If so, how will she be changed?
Yes. Natalie will definitely survive the crash. I think the crash is one of those moments that helps put things in perspective for her and shows her just how capable she really is.
Natalie almost played violin professionally but became a doctor. Did the same ring true for you personally?
Yes. I grew up playing violin since I was 6. I played professionally throughout high school. I played in the Florida symphony youth orchestra and played for weddings and functions around town during that time too. I really thought that playing violin would be my profession, but I knew I didn't want to play in an orchestra forever and didn't feel like I was quite good enough to be a soloist like someone as great as Anne Sophie Mutter or others. I fell into acting when I was about 15 and I instantly knew that's what I wanted to do. I loved it. My dad during that time gave me some really great advice. He said "Don't try to be a jack of all trades. Pick what you love and try to be great at it." It was hard to leave the idea of playing violin professionally. It was something I had done my entire and it felt scary to let it go. Fortunately, I get the opportunity to play in shows like "Chicago Med." Which I love to do. I love marrying those two worlds of music and acting together.
You're from NY, lived in LA and now film in Chicago. How does the Windy City compare to LA? What are your favorite spots? After four seasons there, does it feel like home?
I absolutely love Chicago! I am really going to miss it when this whole experience is over. Chicago has all the benefits of a big city but the softness of being in the Midwest. There is always something going on. I feel like I'm part of a community here which makes it feel like a home away from home. I love all the parks, they are absolutely stunning. The lake is one of my favorite aspects of this city. And the food! I can't forget to mention the food. Chicago definitely holds the top spot for me with restaurants. I have had some of the best meals of my life in this city! My favorite to date is from a restaurant called Oriel.
You've played a varied range of characters on the small screen. Which is the most like you and why?
I normally say my role on "Chicago Med" as Natalie is most like me but in truth, I don't think I've played a character that is that much like me yet. However, aspects of Natalie are more me than any other character I have played yet. I feel like I get her. I also feel like I've let myself and my mannerisms dip into this character more than any of my other characters.
What is the best thing about coming to work on the "Chicago Med" set every day?
There isn't a day that goes by where I don't feel insanely grateful to be on this show and playing this role. The content they give my character to play with makes me feel so artistically satisfied, as do all the fantastic actors I get to go to set and work with every day. We have the best cast and crew out there. I've never worked on a show where everyone really gets along and treats each other like family. It is truly incredible.
Photo Credit: Ryan West
Subscribe to discover the best kept secrets in your city