Photo Credit: Chris Watt
If ringing in the New Year in a big way sounds good to you, there are just a few destinations worldwide that really embody "go big or stay home." There's that epic celebration in New York's Times Square, Sydney Harbour's fireworks bonanza and, of course, Hogmanay, Edinburgh's 100,000-person strong festivities. Hogmanay '19 was no exception: it was one, giant, magical party.
The action kicked off on Dec. 230 with a crowd numbering 40,000—residents and visitors alike from 49 countries—gathering together for the Torchlight Procession walk through Edinburgh's historic Old Town. There's nothing quite so beautiful as seeing the processional, bathed in only firelight, marching alongside Scottish pipe, drum and dance bands from across Scotland, led by the Celtic Fire Theatre company, PyroCeltica, clad as Highland Warriors.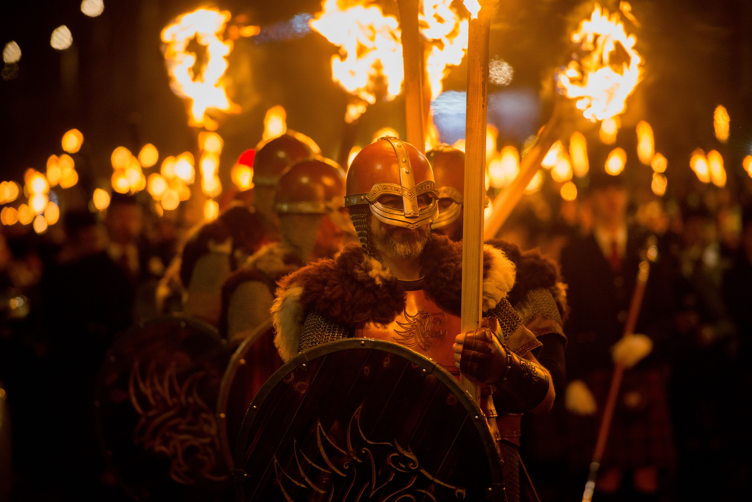 Photo Credit: Ian Georgeson
This was the start of the three-day celebration, which featured Message from the Skies, a selection of love letters written to Europe from six internationally celebrated writers—Billy Letford, Chitra Ramaswamy, Kapka Kassabova, Louise Welsh, Stef Smith and William Dalrymple—which will illuminate and animate buildings around the city during the first month of 2019.
The biggest highlight, of course, was New Year's Eve itself. There's nothing quite like hundreds of thousands of people all gathered underneath Edinburgh Castle in the gardens, watching Scottish rockers Franz Ferdinand jam out before a fireworks display that still boggles the mind take place… or having said band reclaim the stage post-show to sing "Auld Lang Syne." Just… magic.
Photo Credit: Visit Scotland
But beyond ringing in the New Year, there's much to love about Edinburgh, which is one of the loveliest, friendliest cities we've had the pleasure of visiting. Perhaps we feel that way in part because J.K. Rowling wrote the lion's share of her Harry Potter series here, but mostly it's because of the medieval Old Town and elegant Georgian New Town vibe of Scotland's capital city, a mixture which creates a whimsical journey to the past. And let's not forget the Scotch…
---
STAY
Located just a stone's through from the heart of Edinburgh's Center is the posh Principal Edinburgh George Street, which has been open since 1881. Talk about taking a step back in time! At the hotel's heart are five listed Georgian townhouses, built in 1775 as homes for Edinburgh's wealthiest citizens, so know that when you stay, you'll be in good company. This luxe hotel was the Scottish Hotel of the Year award winner at the 2017 Scottish Hotel Awards thanks in a part to a multi-million-dollar restoration and refurbishment that now includes luxurious natural materials such as oak, marble and leather with a palette of colors inspired by the great 19th-century Scottish landscape painters.
In the rooms you'll find claw-foot bathtubs, old-fashioned phones (in vibrant red, adding a colorful pop to the otherwise muted grey shades throughout the rooms), complimentary snacks (an added bonus for a luxury hotel) and super-fast, high-speed WiFi.
When booking, we suggest you score the Principal Suite, as it's the largest and most generously appointed in the hotel. Here you'll find offerings including a roll-top bath and a separate walk-in shower; a huge four-poster King bed; and Perfumer's Story bathroom amenities. Guests of this particular suite will also be offered complimentary valet parking and a complimentary selection of spirits as well as a room liberally dotted with fresh flowers for an extra special touch.
---
DINE
Photo Credit: The Tower
There are too many amazing eateries to try in just 48 hours, but if you have to narrow them down, we suggest starting with The Tower. In summertime, darkness falls anywhere from 10 to 11:30 pm, so stretch a welcome cocktail into an hour or two on the terrace of James Thomson's rooftop Tower Restaurant, uniquely located above the National Museum of Scotland (you'll need a reservation to get up after hours, FYI). Take in the panoramic views of Edinburgh Castle, The  Royal Mile and Old Town before sitting down for a fine-dining bonanza that's heavy on locally-sourced fresh seafood and meats. Expect the best of Scotland in one restaurant, from briny Scottish oysters, to lobster from the Isle of Skye to scallops hand-dived by Guy Grieves and his Ethical Shellfiish Company off the Isle of Mull. Meats including rib-eye, sirloin and fillet beef come directly from award-winning butcher, Simon Howie, rich game is sourced from Perthshire and the Scottish staple—haggis (basically a sheep's innards mixed with spices)—arrives from Dingwall. Don't miss the starter of pea and mint velouté with clotted cream: it's exquisite.
Another not-to-be-missed meal is The Pompadour by Galvin, Jeff and Daniel Galvin's elegant French eatery on Princes Street. These Michelin award-winning chefs bring a distinctly timeless elegance to both the restaurant's aesthetic through its exquisite hand-painted walls as well as its fare. Check out the views of Edinburgh Castle while you indulge at the Food Awards Scotland's 2017 pick for Fine Dining Restaurant of the Year.
---
DRINK
Photo Credit: SMWS
Affluent travelers who want to experience something rare that isn't for the masses will rejoice about the Scotch Malt Whiskey Society, which offers limited, rare bottles in a refined, upscale environment—that most need memberships to enjoy on the regular. Guests are allowed to imbibe at the brand-new Kaleidoscope Whisky Bar and Dining Room Restaurant to enjoy the Society's wares, while members have a slightly more prestigious accommodation on the top floors of the Queen Street locale. The bar boasts over 200 rare single malts from across Scotland, as well as a selection of artisanal spirits, wines and craft beers. The focus, as it should be, is on the Scotch. This is where you want to be drinking if you're an aficionado who still realizes there's much to be learned about the world of Scotch, and these libations are top notch. And it has the awards to prove it: in 2018—its 35th anniversary year—alone, it was awarded the Independent Bottler of the Year in Whisky Magazine's Independent Bottlers' Challenge competition (its sixth win in nine years) as well as the regional Whisky Magazine award for Independent Bottler of the Year for Campbeltown, Lowland, Grain, Irish and Japanese whiskies as well as the overall award for Bar Group of the Year.
Though you'll have an absolutely exquisite dinner at The Printing Press Bar & Kitchen (think elegant nibbles like No. 25 Gin-cured trout, pickled mussels, avocado, beetroot and more substantial savories such as Wellington Farm pork belly with pulled daube, haricot beans and asparagus) it's cocktail list is just so cool that we had to include it as our top spot to drink in Edinburgh. The Printing Press Bar & Kitchen plays up to Edinburgh's rich literary history, which not only includes modern marvels like the aforementioned J.K. Rowling but also Robert Louis Stevenson (who wrote "Dr. Jekyll & Mr. Hyde" here, modeled after Edinburgh's own Dean Brodie) and poet Robert Burns. The bar and restaurant was also once home to acclaimed novelist Susan Ferrier (an equal of Jane Austen, according to Sir Walter Scott). The book-like menu is broken down into "Fairy Tales," "Short & Sweet," "Love Stories," "Myths & Legends," a Tattinger Champagne bar and even a cocktail tree (samples galore). The presentation is the bees knees… think lots of dried ice, domed glasses and even a treasure chest (when you try the "Dead Man's Chest"). Our favorites include "The Odyssey"—shortbread-infused Glenkinchie 12-year-old whisky, crème de cacao brun, Frangelico, Grand Marnier and Teichenne Vanilla schnapps—and "George's Marvellous Medicine" (named after a Roald Dahl novel)—Absolut Raspberri vodka, Solerno Blood Orange liqueur, cranberry, lemon, Monin Barbe e Papa and served with dry ice.
Also of note: Edinburgh hot spot Bramble Bar, an award-winning cocktail party with a muted, masculine elegance (brick walls, leather armchairs and a stiff gin and whisky list) and the Prohibition-style speakeasy Panda and Sons, which is hidden within a barbershop.
---
PLAY
Photo Credit: The Scotch Whisky Experience
In Edinburgh, there's a little something for everyone. If you only have 48 hours, we suggest immersing yourself in its local culture and simply seeing its top sites, including Edinburgh Castle; the Royal Mile, which cuts through the city's Old Town; Arthur's Seat, a stunning hike with breathtaking views of the city; the picture-perfect waterfront suburb of Leith; and (we've saved the best for last) the Scottish drink of choice: Scotch whisky. The best way to get your whisky bearings is to book a tour (Platinum level, natch) at The Scotch Whisky Experience, which explains the process of how the drink is made as well as the tastes and traditions of different areas… and, of course, which allows you to drink some pretty rare, special Scotches. The tour includes a whisky barrel ride through the production of Scotch whisky; an introduction to the aromas in whisky; a guided nosing and tasting of four contrasting single malt whiskies, plus an exclusive tasting of the Scotch Whisky Experience 30th anniversary blended whisky; an extended viewing of the World's Largest Collection of Scotch Whisky; and a gift of a crystal whisky tasting glass. It's a must.
Edinburgh 1
Edinburgh George Street exterior
Edinburgh 2
The Printing Press
Edinburgh 3
Edinburgh George Street lobby
Edinburgh 4
A suite at the Edinburgh George Street
Edinburgh 5
Edinburgh George Street rooms
Edinburgh 6
Panda and Sons
Photo Credit: Panda and Sons/Facebook
Photo Credit: Bramble/Facebook
Edinburgh 8
The Scotch Whisky Experience exterior
Photo Credit: the Scotch Whisky Experience
Edinburgh 9
A barrel ride at the Scotch Whisky Experience
Photo Credit: The Scotch Whisky Experience
Edinburgh 10
Restaurants, bars and offices reflected in the Water of Leith on Leith Shore
Edinburgh 11
Sunset over the Water of Leith at Leith Shore
Photo Credit: Visit Scotland
Edinburgh 12
Edinburgh Castle in Autumn seen from Princes Street Gardens
Photo Credit: Visit Scotland
Edinburgh 13
Edinburgh Castle esplanade
Photo Credit: Visit Scotland
Edinburgh 14
Princes Street at springtime seen from Princes Street Gardens West
Photo Credit: Visit Scotland
Edinburgh 15
Scottish Gallery of Modern Art One with Landform by Charles Jencks in the foregound
Photo Credit: Visit Scotland
Edinburgh 16
Hogmanay Torchlight
Photo Credit: BRAW Cherry
Edinburgh 17
Scotch Malt Whiskey Society
Photo Credit: John Need
Subscribe to discover the best kept secrets in your city