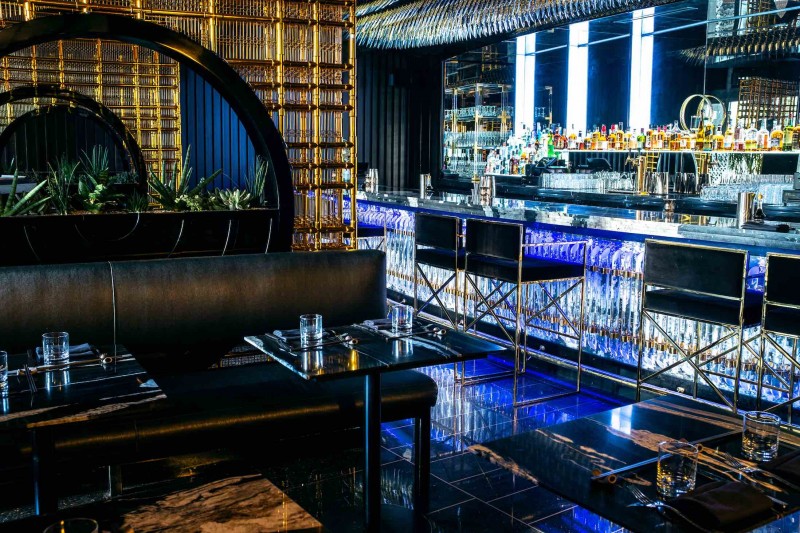 Photo Credit: Juan Fernando Ayora @juanfayora
Nestled in the brand-new Miami Design District Paradise Plaza lies acclaimed chef Brad Kilgore's latest hot spot, Kaido. The intimate Asian and Japanese-inspired cocktail lounge takes on the theme of a chic, Tokyo-style drinking den, with cozy banquette seating, dim lighting illuminated by a gorgeously crafted bar area and of course, a vibrant cocktail program and decadent bites. The room is highlighted by a stunning 1,000 Butterfly Knife chandelier, custom-made for the space. Equipped with a DJ-ready sound system, the lounge serves as the perfect, sexy ambiance for a night out or night-cap.
Photo Credit: Juan Fernando Ayora / Lucky Frog Studios
Photo Credit: Juan Fernando Ayora @juanfayora
The menu features a range of diverse Asian-inspired bites, featuring six different sections: Raw/Chilled, Appetizers, Robatayaki, Indulge, Sweet and Issho-Ni—translating to "together"—dishes that are perfect to share with a group. Each plate boasts fresh ingredients and utilizes local produce. Must-try menu highlights include the signature Uni Fondue—a warm, velvety sauce of Uni combined with aged parmesan and an array of seafood, vegetables, spices and herbs; the Crispy Iberico Pork Kushikatsu—a savory, tender serving of Iberico Pork with Kaido Tonkatsu Sauce, hot mustard, soy pickled onions and shaved cabbage; Beef Tartare, which comes playfully displayed in crunchy cones, topped with crispy onions, chili garlic sauce and kimchi capers; and the refreshing Green Papaya salad, which pairs wonderfully with one of the rich meat dishes on the menu. And of course, for the indulge section, the A5 Wagyu Katsu Sando or the A5 Wagyu Tataki are the perfect components to amplify the meal, as well as the fan-favorite Korean Style Short Ribs.
Photo Credit: Juan Fernando Ayora @juanfayora
Aside from the cuisine, the grand selling point of this Design District gem is its enticing cocktail menu. Paying homage to its Asian-inspired roots, the spot boasts a lengthy Japanese whisky and sake menu, as well as innovative cocktails unique to Kaido. Standouts include the Jasmine Gimlet—a sweet concoction that puts a spin on the traditional Vodka gimlet with a Japanese flair, that goes down smooth like a sip of a cold sake; as well as the Shiso Negroni—gin, amaro, sweet vermouth and shiso leaf; and the Hokkaido Sour—soy milk washed Japanese whisky, licorice Kuromitsu syrup, lemon juice and Kombu Bitters.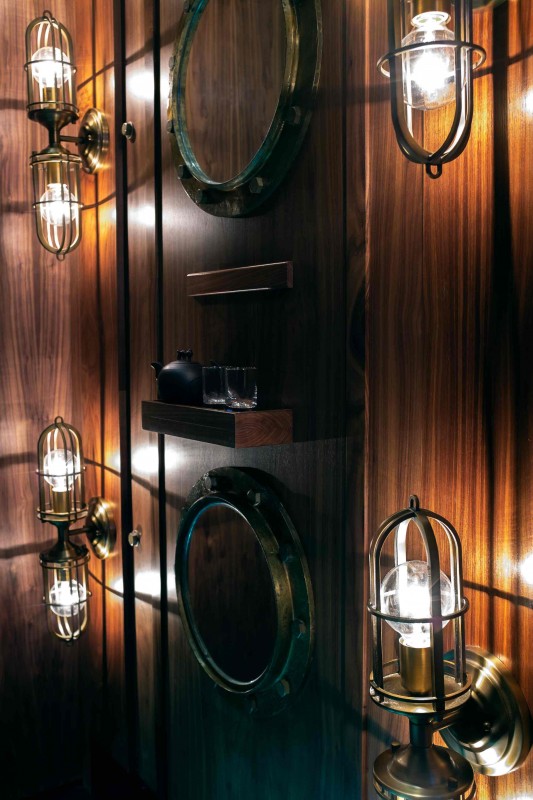 Photo Credit: Juan Fernando Ayora @juanfayora
But the journey does not end there—upon finishing your evening at Kaido, guests have the opportunity to enter the spot's secret speakeasy, Ama, via a camouflaged door that transports guests to a whole new experience. Upon entering the speakeasy, guests are invited to take a shot of Japanese whisky in a tiny corridor before opening the door to the second area. Its name stems from the history of Japanese sea divers, also known as "women of the sea," who would dive deep into the waters in search of rare pearls.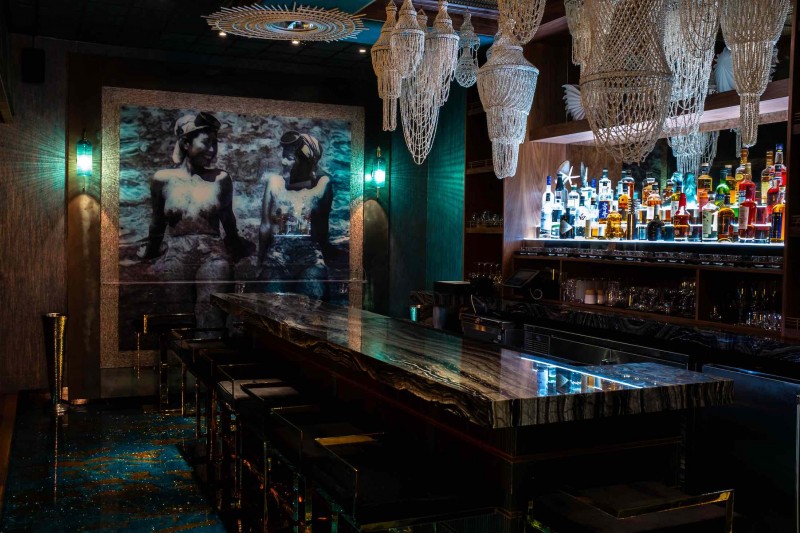 Photo Credit: Juan Fernando Ayora @juanfayora
Ama abides by two rules: 1. Once you go in, you can only go out; and 2. No flash photos. Boasting its own unique theme, Ama sets the stage for an underwater-like tea room with dim lighting, sparkly floors and vintage Japanese pachinko machines. Inside the restrooms are photos of the ama divers, as well as diving masks plastering the walls. And most recently, they've enhanced the entire experience by debuting the new, 16-course "Ama-kase" menu—serving up fresh omakase to a small group of guests.
Photo Credit: Juan Fernando Ayora @juanfayora
Ama-kase will be chef Kilgore's take on traditional Japanese omakase, guiding patrons through a journey of flavors from sea to land and finally dessert, expertly paired with unique cocktails curated by Nico de Soto. The reservation-only spot will offer just two seating's per week at 7 p.m. on Thursdays and Fridays. Be sure to plan ahead, as it will undoubtedly become an in-demand seat to secure.
For more information, visit http://kaidomiami.com/.
Subscribe to discover the best kept secrets in your city